Supporting Family-Owned Artisan Producers of Hard-to-Find Ingredients since 1999
"A long time ago, in a kitchen memory far, far away..."


It is a period of civil unrest.
The Empire and its spaceships are striking
from behind a wall of media, having won
their first victory against
the evil transfat.
During the next attack, Chef's
sous' have managed to steal across
enemy lines, dodging the salt-free zone
by riding on a mysterious hairy hog,
which has enough taste
to change an entire planet.
Pursued by the Empire's
sinister Doctors, Princess
Lesa races home aboard her
hog, custodian of the
lard that can save her
pie and restore
freedom to the kitchen.



When I was growing up, we used to compare apple pies. Back then, it seemed that there were apple orchards scattered all over the place. We would debate over which orchard had the best pickings, and which variety of apples made the best pies, and in the end, it always came down to the crust. The apples were a great addition, but it was the crust that made the pie.

Now, it wasn't like we made the pies ourselves, mind you. It was our moms or our grandmothers who made the pies that we took to bragging about. Since my high school serviced two towns together, a bit of a natural rivalry was always present. In my small circle of friends from my hometown, those that had tried my mom's pie said it was the best. From the other town, everyone said that Peg's grandmother's pie was surely better.

So, it came down to sharing and trying... a pie duel, as it were, scheduled for high noon in the lunchroom. I begged my mom to make a pie, and like all unreasonable requests from teenage children, it is often more painful to say, "no" than to do what was asked. So, an apple pie I got.

The big day came and lunchtime arrived. We stole into an empty classroom and I proudly produced my mom's amazing apple pie. Peg, on the other hand, wimped out (...figures!) and brought nothing. But just the same, everyone had a piece, and Peg even admitted that my mom's pie was the best.

Peg, if you're reading, I will put my pie against your pie any day, because "I" have the secret ingredient...

...Mangalitsa Pig Lard

There is much chewing over the fat, these days. Which lard is best and where on the pig the lard comes from is just one of those debates. Leaf lard, from the kidney and loin area of the pig, is traditionally believed to be the best. However, from what we have tasted, the variety of the pig seems to be more important than where the lard comes from. The lard from the pig known as The Mangalitsa is full of flavor, and always dissolves into a miracle-flavored "drug" whenever you bake or cook with it.

At first you may say, "I can't taste it, no piggy here." But, then you realize that the light and flaky feel of the crust must be a result of the fabulous fat.

So, our special of the week is Mangalitsa Lard. To help grease the skids - make the keyboard a little smoother and the mouse a little easier to click - as you cruise around our new site we have an introductory price for this amazing product that you might not have seen, or even used, for 30 years...

Four (4) pounds of yummy lard (Supplies are limited, so one bucket per person, please.)

Four pounds is enough to share, make a bunch of pies, make as many delicious biscuits as you have time to eat, and fry a few dozen eggs after that... Or, keep it frozen always ready at the hand... Expedited shipping is included in the price. Scoop the fat and smell the bacon!

Below are the recipes we used to test the snout-pleasing goodness of the Mangalitsa Pig Lard...



Visit our new site and make yourself an account (...if you want to)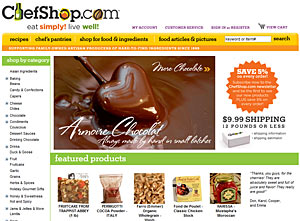 Our New Site is alive and doing well! Remember, you will need to start a new account (register) when you check out for the first time. (Or better yet, register your new account first, then click around to fill your cart. This will allow you to take a break and, say, go watch the Olympics. Then, when you come back, your cart will still be there...) From any page, click the "sign in or register" button in the top right hand corner of the page (Next to the "View Cart" button...)

Also, don't forget to update your browser's bookmarks if you haven't already to ChefShop.com. The old website has a slightly different home page address, so your old bookmarks may not work.

And, don't forget to use this week's newsletter coupon code to get your newsletter discount (code is at the top of the newsletter...) There is an "enter coupon code" field on one of the final checkout pages...
Newsletter Special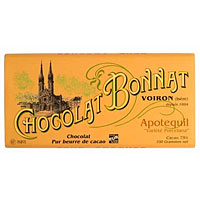 Just out-of-date and not-quite-perfect... (ChefShop.com equivalent of the "dented can" section...) We have a few wonderful chocolate bars from Bonnat (Bonnat Apotequil & Bonnat Marfil de Bianco bars) that are close to their sell-by date. So, the first few orders that use the coupon code will get a free bar of chocolate – while supplies last... First come, first serve... keep in mind, this is not just any chocolate! It is made from the rarest cocoa bean in the world - the Porcelana bean. Even if they are slightly past their sell-by date, you will still be able to taste the essence of this wonderful chocolate from Bonnat! (Limited to quantities on hand)
Newsletter Subscriber Discount Code


Enter this code in the "coupon code" box on the Shopping Box page, just below the "Checkout" button. Our thanks for subscribing! (Valid through Tuesday, March 2, 2010. Discount not valid on fresh/perishable items or already discounted products.)


Do you know someone who would enjoy this newsletter?
Forward it to a friend by clicking here.
You've received this email because you have purchased from us or subscribed. We respect your privacy online, and will never share your email address.

To unsubscribe just click UNSUBSCRIBE or send a request to info@chefshop.com with "Unsubscribe" in the subject line. Hard copy requests may be sent by mail to: ChefShop.com, 1425 Elliott Avenue West, Seattle, WA 98119. To view our privacy policy, please click here.