Three twists on a classic tomato dish

Follow Us
Facebook | Blog


Supporting Family-Owned Artisan Producers of Hard-to-Find Ingredients since 1999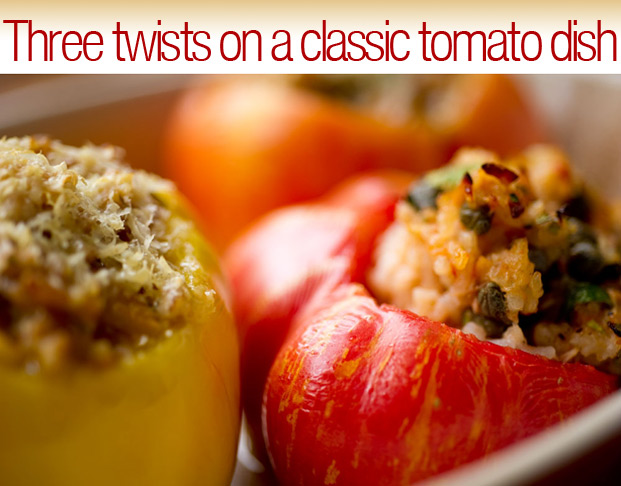 Tomato season is one of our favorite times of the year, and one of our favorite dishes is baked tomatoes stuffed with wonderful, simple ingredients from our pantry.

The classic stuffed tomato recipe calls for Arborio rice, garlic, basil and olive oil – so simple and delicious. This year we wanted to change it up a bit and use some of our favorite ingredients – giving new twists to an old classic. The new combos make for some great additions to a fresh, summer meal.

We like to shortcut the classic cooking process by pre-cooking the grains before stuffing and baking the tomatoes. This means less time in a hot kitchen, and a shorter baking time - so the tomatoes keep their shape.



Emmer-Stuffed Heirloom Tomatoes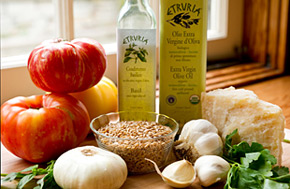 Instead of using the classic Arborio rice, we used one of our favorite grains, emmer. Emmer has more bite than rice, so the end result was a nicely toothsome side dish with a bit more flavor. Perfect.
Tuna and Caper Rice Stuffed Tomatoes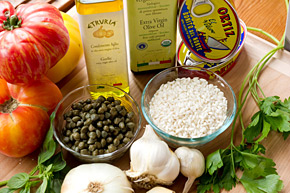 A variation on Marcella's classic recipe - Salmon and Caper Stuffed Tomatoes. We used European canned tuna instead of salmon, and we added Arborio rice. The tuna gave a hearty feel, while the capers added salt and texture. Serve as a main dish for the perfect light summer meal.
| | |
| --- | --- |
| | Peter and Bonnie have started to harvest their reed avocados. All pre-orders will be filled over the next few weeks, as ripe avocados become available. We are hoping to have avocados in the store for individual sale soon as well. If you live in Seattle, give us a call to find out when they will be available. |
| | |
| --- | --- |
| | The Stennes family are harvesting their pluots soon. Place your order by the end of the week. |

It turns out that Facebook is a really fabulous way to stay in touch and keep up-to-date on what we are cooking at home, doing around the warehouse, or finding out there in the world. It's so easy to update our Facebook page on the fly — including from our cell phones while we are on the road - and let all of you know about what's going on. (Like, the organic cinnamon grower we met in Hawai'i — look for that post soon!)

Click here to LIKE us on Facebook. Just hit the "LIKE" button at the top of the page.
Newsletter Subscriber Discount Code


Enter this code in the "coupon code" box during checkout (see below). Our thanks for subscribing! (Valid through Tuesday, September 7, 2010. Discount not valid on fresh/perishable items or already discounted products.)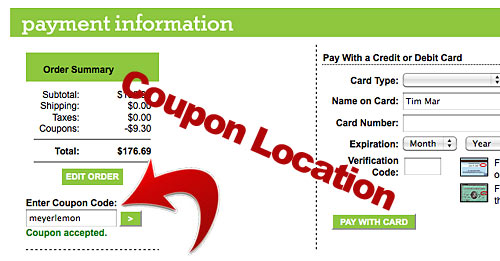 Do you know someone who would enjoy this newsletter?
Forward it to a friend by clicking here.
You've received this email because you have purchased from us or subscribed. We respect your privacy online, and will never share your email address.