Not only are our vineyards blooming...
Over the past ten years, we at Penner-Ash have become used to varying states of transition. From fledgling start-up to the building of our Tasting Room and production facility we have passed many milestones along the way. This summer we are excited to be entering a new phase of growth and change.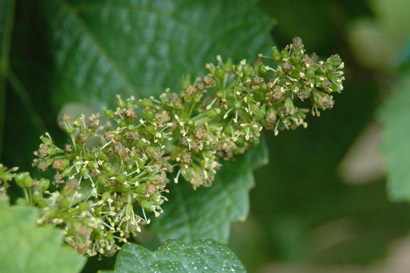 We have recently welcomed three new members to our team. Ryan McKenna arrived in our accounting office with over 11 years of industry experience, ten of those working on the "Poor Farm" at the Edgefield Winery & Distillery as the accounting, compliance & distribution guru, as well as a brief stint in public accounting. When he is not chasing numbers around a spreadsheet at Penner-Ash he is chasing his three boys around his home in Southeast Portland.

While we say goodbye to Natalie Sigafoos we are pleased to introduce Kelley Sparwasser as our new Direct Sales Manager. After spending several years cooking at area restaurants, she moved to New York City to join the editorial staff of Food Arts, the leading hospitality industry trade magazine and sister publication of Wine Spectator. Kelley specializes in event production and hospitality promotions having worked with the Charlie Palmer Group, Wines from Spain, and NAVAN, Natural Vanilla Liqueur.

Our first intern for the 2009 harvest season has arrived from New Zealand. Rachel Rose spent this past spring working harvest for Cloudy Bay Vineyards in Marlborough, New Zealand. More interns from a variety of wine regions will be arriving throughout the summer.

Our vineyards are showing varying degrees of bloom, an excellent sign as this potentially puts us at a mid to late September start date for harvest - right on target to insure full maturation of the clusters. We can only speculate that the recent bloom in our vineyards along with dynamic new individuals joining us at the winery are good omens for future success. We're extremely optimistic.

Salud!

Lynn and Ron Penner-Ash FREE Ground Shipping Ends June 30 - Place Your Order Now!


Your response to our free ground shipping offer has been terrific but like all good things, it is coming to an end. To take advantage of this special offer before it goes away, just place an order of 12 bottles or more by 6/30/09 and we'll ship your entire order for free. Please feel free to mix and match vintages. Place your order now!

2008 Futures
The 08 Vintage gave us four distinctive and beautifully structured single-vineyard designates. Our own estate Dussin Vineyard, Shea Vineyard, Bella Vida and a new source for the Penner-Ash portfolio from the Dundee Hills, Elevee Vineyard. This is your opportunity to take advantage of special pricing and securing your order for these extremely small lots before they sell out. To order call 503.554.5545 or email Kelley. Pas De Nom - Barrel Select Pinot noir
New to the portfolio is our Pas de Nom, an ultra premium Pinot noir blended from our favorite 5 barrels in the cellar. The vineyard sources include our estate Dussin Vineyard, Shea Vineyard (both Yamhill-Carlton AVA), Bella Vida Vineyard in the Dundee Hills AVA and Zena Crown Vineyard in the Eola - Amity Hills AVA. It's a winemakers dream - to choose just a few of their favorite barrels each vintage for a special bottling. This wine will be included in our Cellar Club shipment and only sold through the winery. Extremely limited quantities. To order please call 503.554.5545 or email Kelley. Penner-Ash Online Store
No more fussy fax machines or snail mail orders. With just a few easy clicks, you're now able to purchase our wines direct from the winery from our online store. You'll still receive the wonderful customer service from Kelley, it's now just a whole lot easier to place your order. Check out the store. Upcoming Events

"4 for the 4th"
July 4th
Join us for a vertical tasting of 4 of our library wines in honor of the Fourth of July. Taste 2003, 2004, 2005 and 2006 vintages of our signature Willamette Valley Pinot Noir to sample as a $25 flight for this special event. Our daily tasting menu will also be available. Call ahead for gourmet box lunches to enjoy in our groovy picnic area with vineyard, valley and mountain views. A percentage of proceeds will be donated to the Eco Trust Farm to School Initiative. Call 503.554.5545 to pre-order box lunch or email Kelley.

International Pinot Noir Celebration Dinner
July 23
Join us for an evening with friend and renowned Chef Vitaly Paley of Paley's Place for an evening of amazing cuisine and Penner-Ash wines. $125 per person - only 6 seats remain! For reservations call 503.554.5545 or email Kelley.

Bike Gallery Wine Country Bike Ride
August 2
Join us on our annual ride through Oregon Wine Country and lunch at Penner-Ash Wine Cellars. Are you up for a Sunday ride of 30 miles of gentle rolling hills and catered lunch? Call The Bike Gallery at 503.636.1600 for details and reservations.

Carlton Walk in the Park
August 1, 2
A benefit for local charities, combines world class artists, the region's most prestigious wineries and the best in local cuisine. We'll be pouring a selection of our wines in the park to support this wonderful event.