Harvest 2009 Update
As you read this we are literally knee-deep in a fermenter of Pinot noir shoveling skins into our press. Yet again, we are cautiously optimistic that the 09 Vintage will bring us another quality portfolio of wines from Penner-Ash. We experienced a relatively dry, cold winter and early spring followed by a mostly warmer and drier than normal May through September, with average to above average heat accumulations indicating good overall growth and ripening conditions. Our growers have done an exceptional job of delivering healthy fruit to the winery. We're experiencing great color and broad mid-palate texture of dark fruits in the ferments.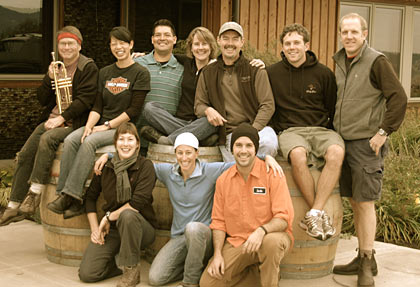 Our Harvest Crew this year is certainly the most experienced and technically trained group we've assembled over the years. Along with their expertise, a positive and "get the job done" attitude has created a high energy AND fun environment. We've always enjoyed the injection of new personalities and perspective our Harvest Crew brings us each year.

You can check out our crew's bios and photos on the Penner-Ash Facebook page.

You can also dial into our new Harvest 2009 Twitter feed.

Salud!

Lynn and Ron Penner-Ash 2007 Pas De Nom - Scores 92 in Wine Spectator



New to the portfolio is our 2007 Pas de Nom, an ultra premium Pinot noir blended from our favorite 5 barrels in the cellar. The vineyard sources include our estate Dussin Vineyard, Shea Vineyard (both Yamhill-Carlton AVA), Bella Vida Vineyard in the Dundee Hills AVA and Zena Crown Vineyard in the Eola - Amity Hills AVA. It's a winemaker's dream - to choose just a few of their favorite barrels each vintage for a special bottling. This wine was included in our Cellar Club shipment and only sold through the winery. Extremely limited quantities. To order please visit the Penner-Ash online store, call 503.554.5545 or email Kelley.


Now In the Store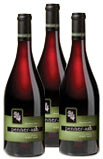 We are very excited to announce that we have recently made available our three new Pinot noir releases in our online store. Visit our Website to learn more about our 2007 Carabella Vineyard Pinot noir, 2007 Palmer Creek Vineyard Pinot noir and 2007 Shea Vineyard Pinot noir (limited supply).



Holiday Gift Packs
This is your opportunity to take advantage of special pricing and securing your order for these extremely small lots before they sell out. Let us take away the hassle of coordinating gift-giving during the holiday season. Share the holiday spirit with colleagues, family and friends. To order call 503.554.5545 or email Kelley. Cellar Crawl Collection - Just 10 Sets Left!



Five renowned Oregon winemakers have tapped five Willamette Valley vineyards to create 25 unique expressions of Oregon's signature Pinot Noir - these are the wines of the Cellar Crawl. Designed to explore how soil, geology and the winemaker's approach impacts the expression of wine. In 2006, five winemaker friends - Lynn Penner-Ash, Terry and Ted Casteel (Bethel Heights Vineyard), Steve Doerner (Cristom Vineyards), Ken Wright (Ken Wright Cellars) and Laurent Montalieu (SolÚna Cellars) - picked fruit from the same five vineyards, with each winemaker creating their own barrel from each lot, then bottled and named it after their tasting group Cellar Crawl.

A limited edition set of 25 wines, with $250 from each set sold going to the Parkinson Center of Oregon in recognition of winemaker Terry Casteel's battle against Parkinson's disease.

We're checking the pulse. Please let us know if you might be interested in a one-time Cellar Crawl tasting at the winery in November. A fabulous opportunity to taste through all 25 wines! $100 per person. For details call 503.554.5545 or email Kelley. Upcoming Fall Events

Harvest Celebration Open House
November 21 - 10:00 a.m. - 4:00 p.m.
Food by Simpatica
Join us for our annual Pre-Thanksgiving barrel tasting of 2009 single vineyard Pinot noirs. Look for your email invite in November.

Thanksgiving Weekend Tasting
November 27 10:00 a.m. - 4:00 p.m.
Experience our extraordinary sense of place in the heart of Oregon Wine Country. OPEN FRIDAY ONLY for special tasting flights from 10:00 a.m. - 4:00 p.m. Regular tasting room hours and flights the following Saturday, 11:00 a.m. - 5:00 p.m.
Email Kelley for more information.