Penner-Ash Notes — Less is More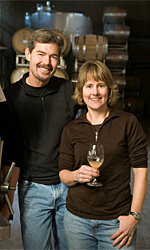 Less is More is a 19th century proverbial phrase of unknown origin that is often associated with the architect and furniture designer Ludwig Mies Van Der Rohe (1886-1969), one of the founders of modern architecture and a proponent of simplicity of style. In these times of financial uncertainty, the phrase Less is More resonates with many of us.

The time is now when families and friends are returning to their homes for entertaining, often choosing a special wine. We see this financial crunch as a glass is half-full opportunity -- a time, similar to Post 9-11, when people took stock in the quality of their lives and what they had rather than what they didn't have. People chose to focus on spending time rather than money.

Less is More seems to ring truer than ever, not only at home, but in business as well. And with that in mind we'd like to welcome you to the first edition of our quarterly eNewsletter. We feel this is a smart business decision, both fiscally and environmentally. This new format will give us the opportunity to reach out to you on a more regular basis to convey what's going on at the winery, in the wine business in general and tell you about new Penner-Ash releases throughout the year. Please feel free to send us comments about our eNewsletter to newsletter@pennerash.com.

Salud!

Ron and Lynn Penner-Ash Lynn's 2008 Harvest Update


To be honest, during the first part of September I was extremely nervous going into Harvest. With intermittent rain throughout September, our vineyard samplings were showing the majority of our vineyards below 20 brix with green under ripe flavors - not even close to maturity. It would take a persistent spell of dry, warm weather to give us the necessary heat units to bring our vineyards to full maturity. Even after 26 years, I still find the weeks leading up to Harvest the most difficult. It's during this time of uncertainty the mind plays tricks on you - always second guessing, always playing out worst case scenario. To see how Harvest turned out, read more. Premium Wine Release
It seems every vintage a few barrels in our cellar exceed all expectations. After years of debating whether we should blend these special barrels into a premium cuvee - we have decided it's time! For the 2007 vintage we used four vineyard sources to blend our soon to be named (with your help on November 22) cuvee. Three different AVA's from the Northern Willamette Valley are represented - our own estate Dussin Vineyard (Yamhill-Carlton), Shea Vineyard (Yamhill-Carlton), Bella Vida (Dundee Hills), and Zena Crown (Eola Hills-Amity). Only 125 cases were produced. We'll be pouring our special cuvee at the November 22 Harvest Celebration and offering special pricing now (Order Form) through the end of the year. Anticipated release early summer. Natalie's Harvest Crew Recipe
During Harvest we sit down every day together as a crew for a traditional Harvest meal that is prepared by Natalie. These meals are beyond excellent as Natalie is quite talented in the kitchen. See Natalie's recipe. Upcoming Fall Events

Harvest Celebration Open House
November 22 - 10:00 a.m. - 4:00 p.m.
Food by Simpatica
Join us for our annual Pre-Thanksgiving tasting and the release of our 2007 Willamette Valley Pinot noir and 2007 Dussin Vineyard (Estate) Pinot noir. You will also have the opportunity to taste and pre-order our barrel select 2007 Cuvee X - our new ultra premium Pinot noir. Only 125 cases produced and you'll have a chance at the Open House to help us name this special bottling since Cuvee X is most likely already in use, and in our opinion, a bit pretentious.
RSVP to Natalie at natalie@pennerash.com.

Thanksgiving Weekend Tasting
November 28 10:00 a.m. - 4:00 p.m.
Experience our extraordinary sense of place in the heart of Oregon Wine Country. Open for the first time during Thanksgiving Weekend, join us for a one day tasting of our current and new releases of Pinot noir, Syrah, Viognier and Riesling. $10 fee includes etched Riedel glass. OPEN FRIDAY ONLY from 10 - 4.