Our Favorite Food Gifts from Year to Year
If you are looking for a food gift, we have many to offer. And, every year we add a number of new treats - fanfare included... But, from year to year, there are some old food favorites that we just can't wait to taste again. If you want to experience an instant of pure epicurean joy, break into the first Lemon Panettone, take a swig of this year's Pianogrillo Olio Nuovo, or pop a chocolate covered cherry with Armagnac into your mouth - there is nothing like it. This year we have some amazing new food delights (watch for them in future emails), but don't forget to stock up on some of the old stand-buys - perfect for those moments when you unexpectedly need something extra special. Good to stock-up early, just in case we run out. The best part is that, if you don't end up giving them away, you can just enjoy eating them yourself!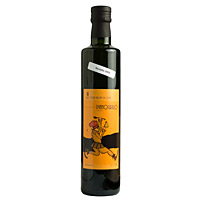 Pianogrillo Olio Nuovo
Chosen by Food & Wine as one of the best holiday gifts! Who would think that olive oil would be a good gift? But it is! This wonderful oil this time of year is something special. And, it really does feel like a gift from the heart for the holidays. You can use it in so many ways…pasta alone, on toasted bread with sea salt, or on your favorite greens…and it is good for you, too. The ideas are limitless and the pure, fresh, green flavor of this oil is wonderful. This year, like all the Italian oils, is early and it is as good if not better than ever.
Buy Pianogrillo Olio Nuovo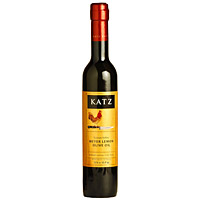 Meyer Lemon Organic Olive Oil
I've tried each of Katz's Meyer Lemon Olive Oils over these past few years, and I have to say that this year's is the best so far. Instead of using olive oil as a mere vehicle for the lemon, Albert's sweet Meyer lemon aroma and rich olivey flavor arise equally from the bottle, and it's hard to say which luscious scent is most dominant.
Buy Meyer Lemon Organic Olive Oil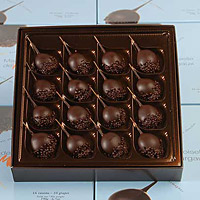 Chocolate, Armagnac & Cherries
16 cherries in gift box
These chocolate-covered cherries, by Mademoiselle de Margaux, are a true revelation. Named "La Guinette," these grown-up indulgences are pitted griotte (morello) cherries dipped in Armagnac and then coated in rich, dark chocolate. The cherry's slightly tart fruitiness and the warmth of the Armagnac blend gorgeously with chocolate. This is what chocolate-covered cherries were always meant to be.
Buy Chocolate, Armagnac & Cherries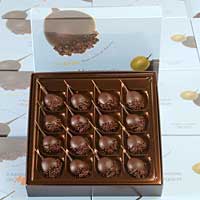 Chocolate, Rum & Grapes
16 grapes in gift box
As seen in Real Simple magazine. These lush, chocolate-covered grape cordials are crafted from locally grown grapes preserved, from the time they are picked, in traditional rum. The warmth of the rum combined with the honey sweetness brought by the grapes, and the flavor of cocoa from the enrobing dark chocolate creates a harmony of flavors that is hard to describe.
Buy Chocolate, Rum & Grapes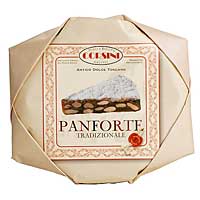 Panforte Tradizionale
Panforte is a specialty of Siena in the southern most part of Tuscany. Panforte Margherita is the most widely sold flavor of Panforte in Italy - named for the first Queen of the then-newly united Italy. Its sweet aroma and lighter flavor, redolent of nuts and candied citrus, proved to be her favorite. Corsini's version is a flat, dense, round cake made with honey, almonds, candied citron, and spices. It contains only a small amount of flour, just enough to hold the cake together. Its richness makes it an energy-filled wintertime dessert. It was especially celebrated during the Christmas holidays.
Buy Panforte Tradizionale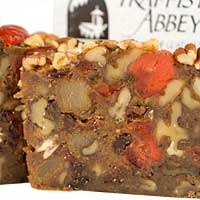 Trappist Abbey Fruitcake
Dark and dense, this fruitcake is loaded with fruit and nuts, but not with the typical maraschino cherries and green citron - instead they use raisins, candied pineapple, and candied cherries. Baked for almost three hours, the cakes are then soaked in fine brandy. Most of the alcohol evaporates and the rich brandy flavor is absorbed. The cakes are then aged for three months to develop the flavor, a unique balance of the sweet fruits and moist walnuts and pecans with a pleasant finish of spices and brandy.
Buy Trappist Abbey Fruitcake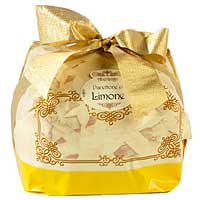 Sorrento Lemon Panettone
The New York Times choice ...I'm still smitten. It is soft and buttery, and its candied lemon replaces the conventional raisins and candied citron.
-- Marian Burros in the New York Times

This hand-wrapped package tied with a shimmering gold ribbon contains one of the most delicious panettone we've ever tasted. Unlike the traditional panettone that are studded with raisins and candied citrus, this ethereal panettone is made with lightly candied Sorrento lemons.
Buy Sorrento Lemon Panettone

In the News

We have been nominated as one of the best gourmet food websites by Luxist - AOL. Check it out here and see a photo of our new store, and don't forget to vote early and often!

Please vote for us here!

Our new web store is coming! We can't wait!

Mark Your Calendars!

Our Tenth Annual After Thanksgiving Holiday Cake and Chocolate sampling is on!

Stop by our retail store during the two days after Thanksgiving (Friday and Saturday) and we will have all the different Panettoni available to sample, hot drinking chocolate available to sip, and a slice of fruitcake available to try. In addition, this year we will have a Corsican cheese monger, Armoire Chocolates, and Magic Road (Argentinean Importer) here to sample their treats, and a French Chef who makes German Stollen that is amazing. It should be fun! Tell your friends and come by and say hi, and sample some wonderful holiday fare!
Newsletter Subscriber Discount Code


Enter this code in the "coupon code" box on the Shopping Box page, just below the "Checkout" button. Our thanks for subscribing! (Valid through Tuesday, November 24. Discount not valid on fresh/perishable items or already discounted products.)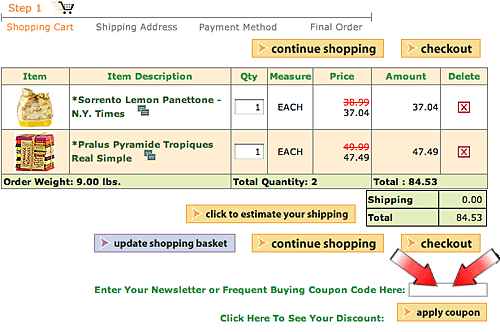 Do you know someone who would enjoy this newsletter?
Forward it to a friend by clicking here.
You've received this email because you have purchased from us or subscribed. We respect your privacy online, and will never share your email address.

To unsubscribe just click UNSUBSCRIBE or send a request to info@chefshop.com with "Unsubscribe" in the subject line. Hard copy requests may be sent by mail to: ChefShop.com, 1415 Elliott Avenue West, Seattle, WA 98119. To view our privacy policy, please click here.