The Magic Food of Argentina
A chance meeting in the Dallas Airport. A filmmaker. A Patagonian guide. And, a short, ten-hour conversation.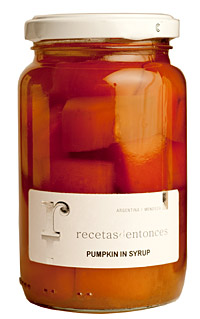 These events rolled all together, along with a film festival and a memorable dinner in Buenos Aires resulted in a Magic Road of food.

Some 4000 miles south of Dallas is a land of plenty, and the birthplace of the Tango - a dance of two people joined in movement and a 2/4 beat. Though the word itself and its origins have many theories, the Tango is all Argentinean.

One might draw parallels between the dance, the rhythm and blending of two bodies, with the local cuisine - a natural blending of the myriad of cultures that have come and gone over the decades - now reflecting the essence of current-day Argentina.

In a rich land, where there are more cattle than people and plentiful rain, a bounty of familiar crops transformed and given their own Argentine twist - like this pumpkin squash in a sweet syrup.

The pumpkin in syrup originated, like many foods, as a way to preserve summer bounty for the winter. Crafted in the foothills of the Andes by a local family, the owner of the family business follows his grandmother's recipe for a traditional homemade winter treat.

Eaten typically as a "dish" by itself, it can also be served over vanilla ice cream for a sweet treat, or wrapped in prosciutto for a savory dish. The small bite-size pumpkin pieces are simple and delicious.

In a culture where meals are the social core of everyday life, and food is eaten with the family at home, these are the types of products we will see over the next few months.

Extremely limited supply. Limit of 1 jar per order.

click here to see pumpkin syrup

click here to see Ann's (the filmmaker) trailer for Travel the Undiscovered and meet (and see) Maria. (the Patagonian Guide)


L'ancienne Drinking Chocolate - France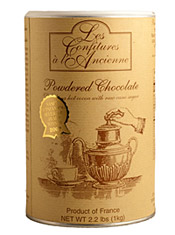 This remarkable hot chocolate has been served in some of the finest French hotels. Only the finest cocoa beans have been selected to produce this traditional powdered drinking chocolate.

The richness of the chocolate yields to undertones of fruitiness that blend with the natural vanilla for a subtle and smooth finish. The carefully roasted beans are selected from renowned plantations to bring out the excellence of the aroma.

These days, Drew, and now I, add a scoop to our morning coffee... this is a good one to have around for unexpected cups of coffee or the sudden need for a cup of hot chocolate.


Mother Sperry's Plum Pudding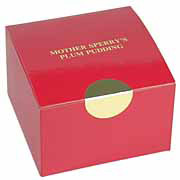 Winnie Sperry has been producing this classic English steamed pudding from her mother's recipe for over 20 years. She markets the pudding only in the Seattle area, but locals have spread the word, and now she has fans in all corners of the U.S. Each year, her loyal followers have her "whisk" them up a pudding for their holiday tables. We even ship at least one pudding every year to England!

The pudding is made with dark fruits, including several types of raisins, as well as breadcrumbs, brandy, and beef suet for extra richness. The puddings are then aged to achieve peak flavor. Winnie personally prefers young puddings, but many people, the English in particular, let them age for years – while not that old, the flavors in these puddings have had a chance to deepen with age.

One bite of a warm pudding reveals moist, dense texture and the perfumed flavor of fruit with a hint of brandy. Winnie includes a recipe for the traditional accompaniment of hard sauce or brandy butter. She suggests that the brandy butter should have plenty of spirit (brandy) to accent the full potential of the pudding.


Don't forget to...
vote and vote often for ChefShop.com at Luxist. Vote now
Our tenth annual holiday bash...
is this coming weekend. On Friday and Saturday we will have Hot Chocolate to sip, panettone to taste, stollen to enjoy and more! Come and hang out and visit from 11:00 a.m. to 4:00 p.m. on Friday and Saturday! We look forward to seeing you!
Newsletter Subscriber Discount Code


Enter this code in the "coupon code" box on the Shopping Box page, just below the "Checkout" button. Our thanks for subscribing! (Valid through Tuesday, November 29. Discount not valid on fresh/perishable items or already discounted products.)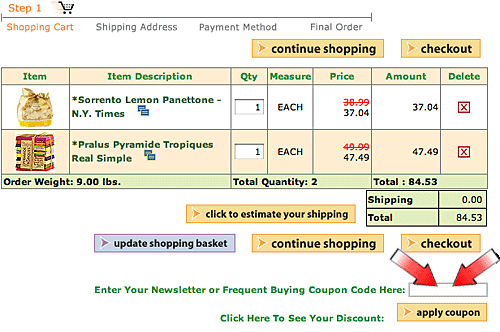 Do you know someone who would enjoy this newsletter?
Forward it to a friend by clicking here.
You've received this email because you have purchased from us or subscribed. We respect your privacy online, and will never share your email address.

To unsubscribe just click UNSUBSCRIBE or send a request to info@chefshop.com with "Unsubscribe" in the subject line. Hard copy requests may be sent by mail to: ChefShop.com, 1415 Elliott Avenue West, Seattle, WA 98119. To view our privacy policy, please click here.